Here am I, sitting in my room trying to learn Turkish, as my policy is to always learn the language of a country that is to be conquered by me. Depending on the time I have available before the travel, this turns out to be a good strategy sometimes (I write mails in Portuñol on a regular basis) and is rather unsuccessful at other times (my Dutch turned out to be insufficient for even basic communication recently). The material I have for this new task now is a somewhat suitable travel language guide that I bought for a bit less than four euros a while back, and several websites. Thanks to lykien.com for their GFDL'd course btw.
However, I'm not happy with the resources available. While a guided course is nice, I often need to know (especially when translating texts) what stem word a certain word is derived from. Even more so for the agglutinating languages like Turkish. Even the more expensive language guides are often no help in this regard. I start to think that geeks simply learn languages differently. The tools should not get in their way of learning with different speeds or into different directions.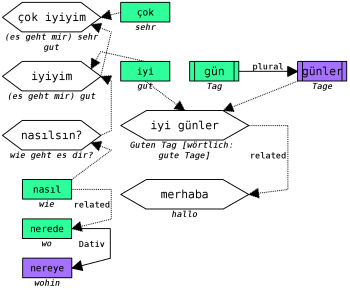 The image above shows some very basic semantic relations between some Turkish words and their German translations. This image is incomplete; with the five words alone, dozens of derivatives and related words as well as phrases could be linked. Furthermore, the exact rules used for forming such words could be linked as well. Is it the small vowel harmony that is being used here? What is the stem word and the tempus? Is it an irregular case? (Fortunately, this latter question would be rare with Turkish texts.)
My wish is to see such learning support tools implemented for the desktop. Vocabulary trainers already exist in KDE-Edu for example, but they're very basic. With the advent of semantic format support in kdelibs, it should be feasible to create even advanced tools such as phrase decompositions and explanations based on a set of words and some rules attached to them.
Users could easily add all of the content, maybe even using the Semantic MediaWiki software which wouldn't even require them to adopt to new methods of authoring.
Now, back to conventional-style learning :/