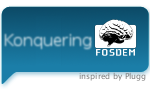 My slides for the FOSDEM Lightning talks were just sent in, nothing can go wrong, except that I'm the last speaker on Sunday and could be trapped into drinking Belgian beer while missing my flight back to Berlin. The devroom slides are also mostly finished.
Now I just need to find the magic KDE boothbox, for it needs to be sent to CLT («Innovation thanks to Freedom»).
Finally, on to creating more slides for my lectures. «The internet as a device» will raise enough questions to close the link to the FOSDEM research room, and will hopefully appeal more to my students than other people's approaches.
Comments
No comments yet.
RSS feed for comments on this post.
Leave a comment
Sorry, the comment form is closed at this time.