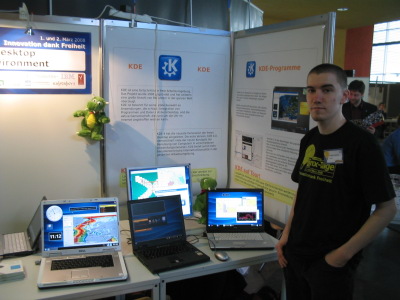 The Chemnitzer Linux-Tage just finished - an enjoyable event like every year, with a certain community spirit not often met at events of that size. The KDE booth was staffed by four people (smajewsky, eckhart, tokoe and me). People were mostly interested in KDE 4.1 alpha to put it bluntly :) but we demonstrated 4.0.2 on most of the screens. Ruphy was kind enough to provide us with new oxygen-ised poster templates before the event so we printed two A0-sized posters. Unfortunately the boothbox didn't make it so we didn't get most of the booth decoration.
While working on some plasma data provider at the end of the second day we learned that there's a secret tool called AutoCMake to help with the creation of cmake files. Now what's totally missing is AutoCConf so we can come up with some decent AutoCTools! Just kidding. Some more serious issues were about my xrandr-powered Xinerama-like setup which Plasma didn't handle too well. Also dynamically adding and removing batteries of the laptop isn't well-supported as of yet in the battery applet. Nevertheless, most visitors were satisfied with 4.0.2 quality over their previous 4.0 impressions which they mostly got from CDs shipped with computer magazines.
The next important event for KDE will be CeBIT. According to tackat's message on kde-events, volunteers are still needed for CeBIT next week. Don't miss the opportunity to represent the latest trends in free desktops to an audience which still needs that sort of information.
Comments
No comments yet.
RSS feed for comments on this post.
Leave a comment
Sorry, the comment form is closed at this time.